Delivery
We use third party delivery companies to deliver our products to you.
We will contact you to arrange a convenient day for your your delivery, as someone will need to be there to check and sign for the delivery.
There are two different methods we use for deliveries
Pallet courier
Dedicated haulier
PLEASE CHECK YOUR SLATE BEFORE SIGNING FOR IT, as damaged slate cannot be claimed for by insurance
Delivery Check list
 Have you got a level hardstanding large enough to accept the required vehicle?
Make sure you will be in between 8am and 5pm on the day of delivery (Re deliveries will incur charges)
Pallet Courier
When we use a pallet courier, we usually send a maximum of three pallets per delivery. Depending on the size and weight of your slate, we can specify a tail lift offload.  This is a method of the delivery driver being able to offload his vehicle using mechanical means, as shown in the photo below: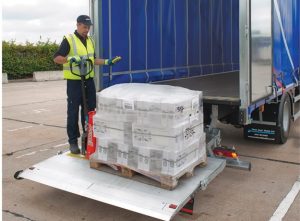 There needs to be a large level tarmac or roadside to be able to offload with this method. Once the driver has offloaded the pallet behind his vehicle, it is your responsibility thereafter. If you do not have a level area please contact us before ordering.
Dedicated Haulier (direct load)
We can send a dedicated delivery direct from the quarry. This method of delivery is only required when either you have a piece of slate too large or fragile to send through the pallet network, or if you have ordered full loads of aggregates or walling etc.  Please contact us for pricing.
Collections
Collections can be made by prior arrangement direct from the quarry.
Alternatively by prior arrangement from head office in Gower, Swansea. (May incur extra charge)
Returns
If your slate has been purpose made to your specification, we cannot accept returns (unless otherwise agreed)
If your slate has been supplied from a standard stock size, we can accept returns within 14 days of purchase (as long as it in perfect condition for re-sale) handling and delivery charges will apply.
If your slate is damaged in transit by our delivery company DO NOT SIGN FOR IT.  Send it back with the same delivery driver. ALWAYS CHECK YOUR SLATE IS NOT DAMAGED BEFORE SIGNING. We can then claim off the delivery company and replace your slate.
As slate is a natural product, it will have natural fossils, inclusions and colour variations.  If these are found in your slate, it does not mean the slate is damaged, but is a unique slab.